English
In Year 1 we have explored the story called Handa's surprise. This week children shared examples of adjectives to describe the fruits and the animals. After the half term, the children will independently write the story and share what they have learnt.
We completed some observational drawings of the fruit in the story: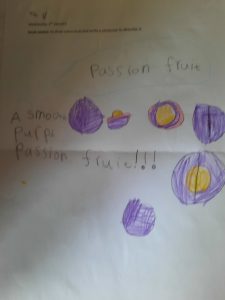 Maths
In Maths, children were highlighting the keyword when solving subtraction word problems and using different methods to solve the calculations.
Other subjects
On Tuesday it was internet Safety Day, we read the story of Digiduck and the Magic Castle. We discussed about the importance of keeping password and personal information private. We encourage all parents to talk to their child about the importance of being safe online. Check out the video below…
https://issuu.com/childnet1995/docs/digiduck_and_the_magic_castle_high_res
Topic
We have completed our learning about houses and homes. Children have showcased their learning regarding this concept. They spoken about the different homes around the world and compared homes to the past.
Next term we will be starting a new topic: Gardeners World where we will be learning about plants and trees and noticing their features.  In English, we will continue with Handa's Surprise where children will plan and write their own version of the story.
We hope all of the children and their families have a great half term holiday and we look forward to seeing everyone again in the Summer term.
The Year 1 Team