We have had a jubilant start to our final term in Year 2!
English
We have been having lots of writing opportunities. We enjoyed writing our own versions of the stories of Little Red Riding Hood and Jack and the Beanstalk. We then used our own imaginations to write an adventure story about Ted (the teddy) who got left behind. Ted had an adventure trying to find his way home.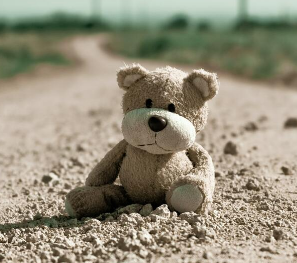 Maths
In maths we have been working on telling the time. We are practising using o'clock, half past, quarter past and quarter to the hour. We have been working practically using small clocks to help us. We have also been able to play some challenging games. We are moving on to reading the time to the nearest 5 minutes and looking at the duration of events.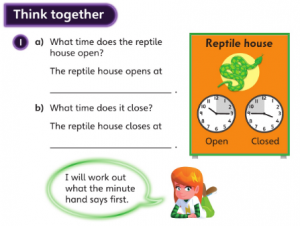 In other subjects…
In topic we have been on a virtual visit to Clacton-on-Sea. We used this information to write a letter to our friend pretending we had been on a day trip to the beach. This is in anticipation of our up coming trip to experience the seaside for real. We hope you are looking forward to it.
In Science we have written an information text about an ocean animal. We included titles and subtitles, facts and technical vocabulary. We have learnt a lot about ocean animals and we enjoyed writing our texts pretending to be a professor!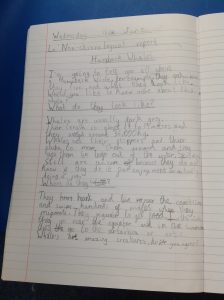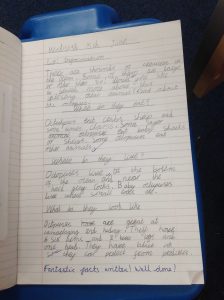 Coming up before the end of term …
Solving word problems in maths, putting to use everything we've learnt this year to help us solve everyday mathematical challenges.
Sewing puppets in DT.
Making clay sea creatures and
Our trip to the seaside!