We wanted to start our first blog with a little poem.
We understand that you are scared to wave your child goodbye and leave them in a teacher's hands – don't worry if you cry!
We are used to weeping parents, it's hard to leave I know. But it's time to share them (just a bit) to help them learn and grow.
Let us reassure you that we'll give your child our best, we'll wipe their tears and soothe their fears!
If your darling child is full of cold, we'll blow their nose all day, just like you, we'll care for them in a special way.
We'll treat him like we would our own, we'll catch them from a fall and if there is ANY problem, we'll be sure to tell you all.
It's true they'll grow to love us, they'll talk of school a lot, it doesn't mean they hate you and that you should lose the plot!
We'll tell you a secret… That when your child is here, they talk to me as much of you of this please have no fear.
You'll always be their parent whilst teachers come and go, to them you are their number one, this I truly know.
Soon you'll see some changes, in your little girl or boy, they'll become more independent and to see this, it's a joy!
We'll teach them all we have to give, to share, climb and to write, but to you they safely will return to tuck them in at night.
The children have settled in amazingly well and you should be so proud of them! Their first term at school has almost come to an end and we are going to share some of the fantastic things the children have been working on.
In the mornings the children have been working on their fine motor skills.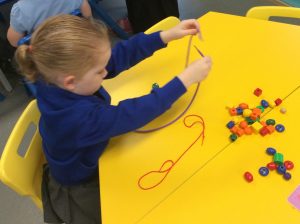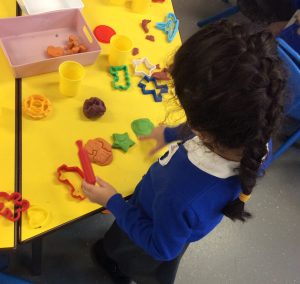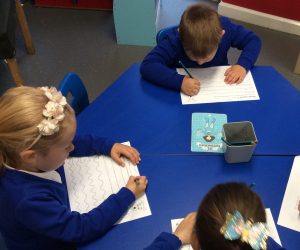 Bead threading and necklace making
Playdough shapes to strengthen their finger muscles
Pencil control worksheets
We have introduced our daily phonics Read Write Inc scheme where the children have been learning a new sound every day. They have also met Fred the frog who helps them to hear the sounds in the word to support their reading. On our school website you can find helpful links to videos on YouTube to support your child/ren to understand the Read Write Inc scheme in more detail. So far, your child would have been introduced to the sounds m,a,s,d,t,i,n,p,g,o,c,k
RWI Speed Sounds Lesson 1 – m – YouTube
What is Read Write Inc.? – YouTube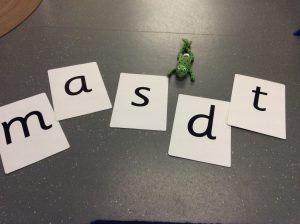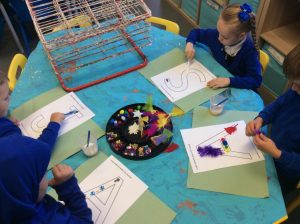 We have also been decorating the initial sounds of our names and thinking of things that begin with the same sound.
In Literacy the children have been reading Traditional Tales. We have been looking at Goldilocks and the three bears, The 3 Little Pigs and the Gingerbread Man.
There have been some strange things happening in our classrooms and if you check the school Twitter page you will be able to see some of our crime scenes.
Here's Goldilocks and the three bears.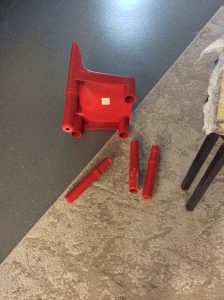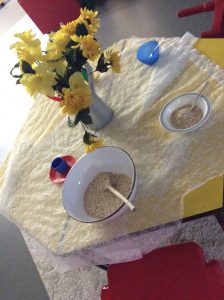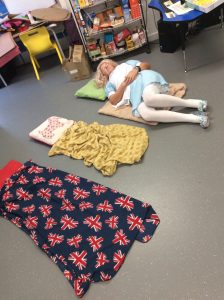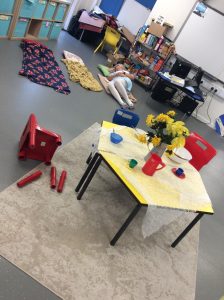 The children were shocked to see there was someone in our class that had broken a chair, had eaten a bowl of porridge and was still sleeping in baby bear's bed!
As you may have seen in our garden area, we have been planting some Daffodils, we would be extremely grateful for any donations of plants or herbs that we could plant for the children to see grow over their year in Foundation or if you are green fingered and could lend a hand helping keep our garden lovely for our children.
Our topic is all about me and our families. We have been sharing our family photos with our peers and using mirrors to draw self-portraits of ourselves. You may hear the children singing this song too and they love it! Good to be me – Sing Up – YouTube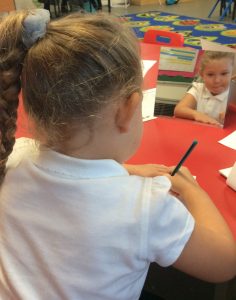 During October we have been celebrating Black History Month. Our key person is Garrett Morgan, who helped to design the yellow part of the traffic light. This was to improve road safety. We have been looking at people who help us around the school including the Lollypop person Mr. Paul.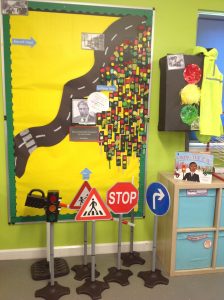 Finally, the children celebrated Hello Yellow day! We wore something yellow and talked about our positive mental health and how we feel. The children celebrated their achievements on I can, and I am happy when… stars, decorated biscuits with yellow icing and smiley faces as well as finding as many yellow objects as they could hidden around their classrooms.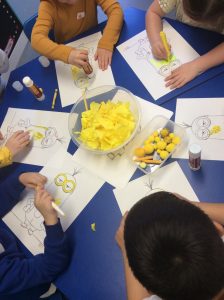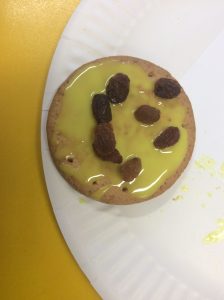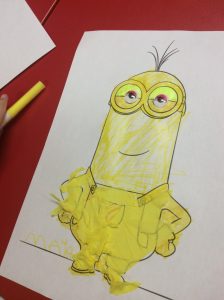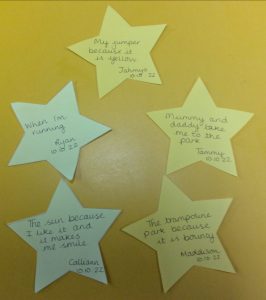 We would like to thank you for supporting us so far this term. If you have any donations for our outside area or would like to make any contributions to the Foundation fund, please see the office or your child's class teacher. We look forward to continuing to enhance your child's learning journey with us and are looking forward to parent's evening next week.