We are now in the final half term, the weather is warming up and year 6 is as busy as ever! We have lots of things to look forward to this half term including: the end of year leavers play, transition days in high schools, a leavers disco, camping on the school field, enrichment, sports day and much more!
In English this half term we have been looking at explanation texts. The children have been taking inspiration from Wallace and Gromit's Cracking Contraptions videos to explain how complicated machines work. So far, we have written about a 'teacher pleaser' machine and a 'homework-in-a-hurry' machine. The 'hot write' at the end of the unit will be to write an explanation of how the 'parent pleaser' machine works. The children will deploy the skills they have learned in this unit including the use of modal verbs and cohesive devices. Here is an example of some work produced so far: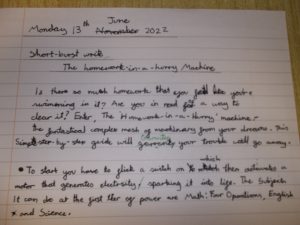 Our Jamaica topic is now in full swing. The children have so far looked at the geography of North and South America with a particular focus on the Caribbean, we have compared the climate and human geography of Kingston with that of Luton and we have debated whether a new hotel should be built along the coast in Jamaica considering both economic and environmental factors. We will soon be building Jamaican shacks as part of our design and technology project and we would appreciate any donations of empty cereal boxes that you could give us to help us build these. The finished shacks always look amazing! Here is an example from a previous year: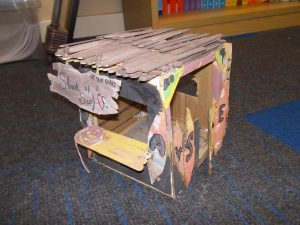 Rehearsals for our end of year production have now begun. We were amazed by the standard of the acting in the auditions and you definitely won't be disappointed when you see the final show. We can't wait for you to see it.