Reading and Writing
At the beginning of this half term in writing we did some work on grammar expectations for year 4.  This included using inverted commas, plural and possessive S and paragraphing.
We have begun a new writing unit based on a diary recount linked to the book The Tunnel by Anthony Browne.  We will be creating our own diary recounts, writing as a character from the book.
In our reading sessions we continue to focus on reading comprehension skills using our three texts (Krindlekrax, One Plastic Bag, UG, Boy Genius of the Stone Age). In addition to this we have our own class reader that we are reading throughout the week.
Maths
In maths, we have finished off our unit on area and have begun a new unit on fractions.  This unit includes, equivalent fractions, simplifying fractions, improper fractions and mixed numbers (fractions greater than 1).
Topic
We have completed our topic on rivers and mountains having looked at significant world rivers and the features of rivers.
RE – In RE the children have been continuing to study Sikhism, they have been looking at what it means to be a Sikh.  Particularly how they work in the community and serve food to those who need it, regardless of their religion.
Over the next few weeks we will focus on :
English – Writing a diary account of a character, from a story we have already looked at.
Maths – We will be completing our first unit on fractions.
Science – We will be starting a new science unit on States of Matter looking at properties of solids, liquids and gases.  The children will be able to learn through practical activities in class, which they are very excited about.
ICT – This term we will be using some sessions to practise times tables ahead of the times tables test next term.  We may also give the children the opportunity to complete Reading Eggs and Mathletics tasks.
RE – We will be completing our unit on Sikhism focusing on the 5 Ks and their leadership.
Easter Production
In the final week of term week beginning 28th March, year 3 and 4 will be performing to parents and carers.  All children will be participating through acting and singing.  We will be busy learning our songs, script and making props.
The performances will be as follows:
Tuesday 29th March – 9:30 am
Wednesday 30th March – 2 pm
Unfortunately, there will be no evening performance due to parents' evenings being held this week.  Information about tickets to this extravaganza will be sent out shortly.  we look forward to seeing you on those dates.
Thank you to those children who brought in work for the optional homework on the water cycle.  Here are some pictures of the fabulous work our wonderful year 4 pupils have done.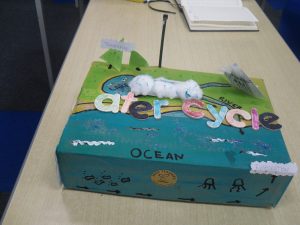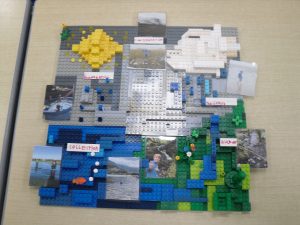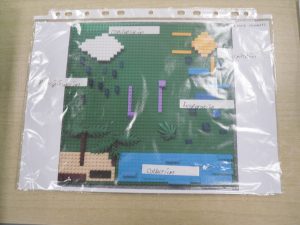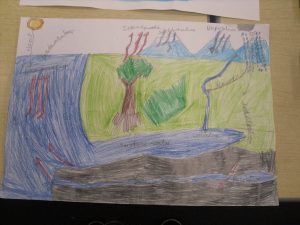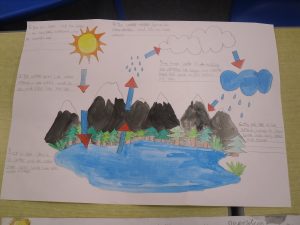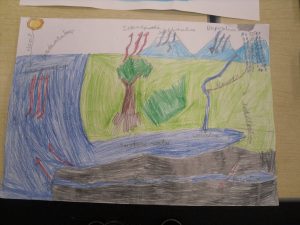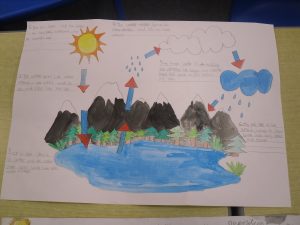 Below is an example of the 'Role on the Wall' activity, ask your children to tell you more about this.  Also here is part of our text map for our diary recount.  See if your child can read it to you.